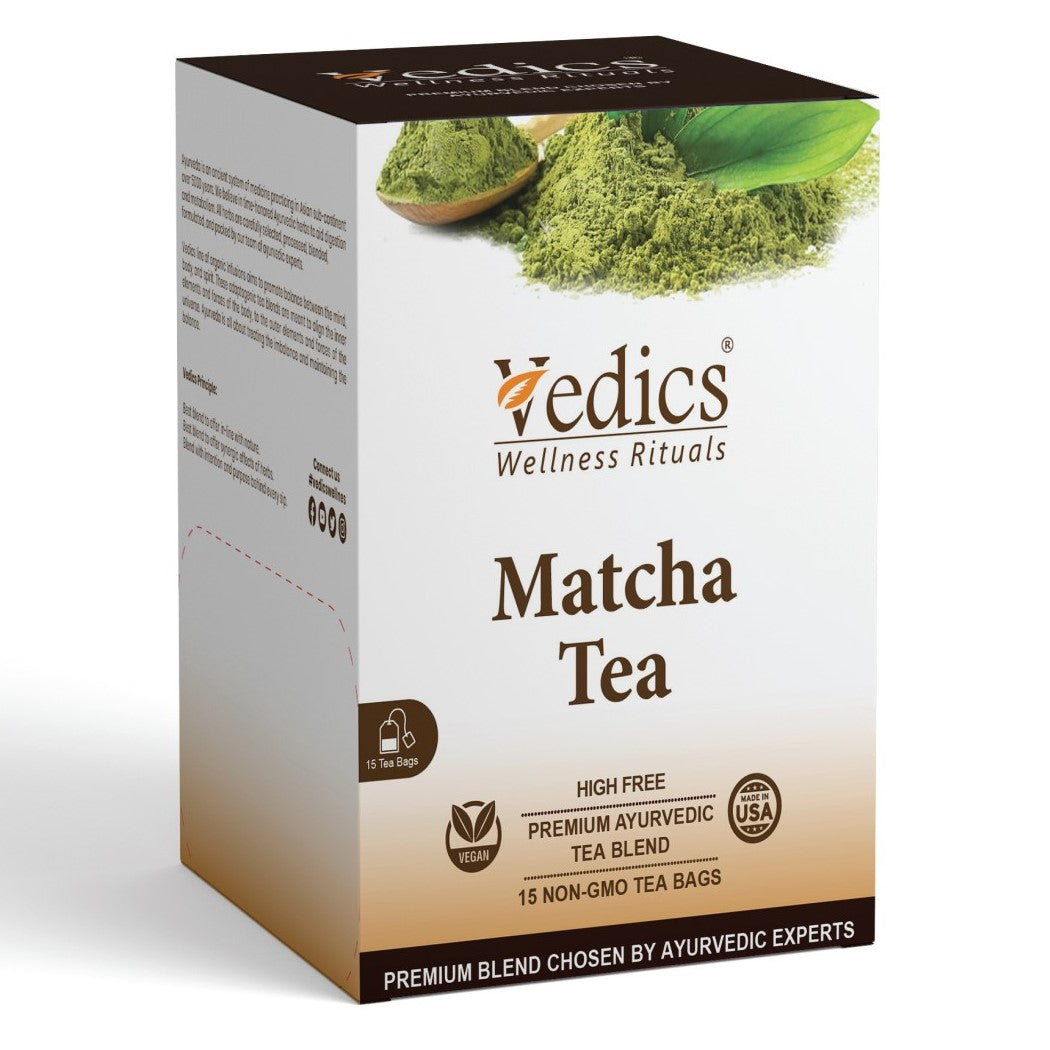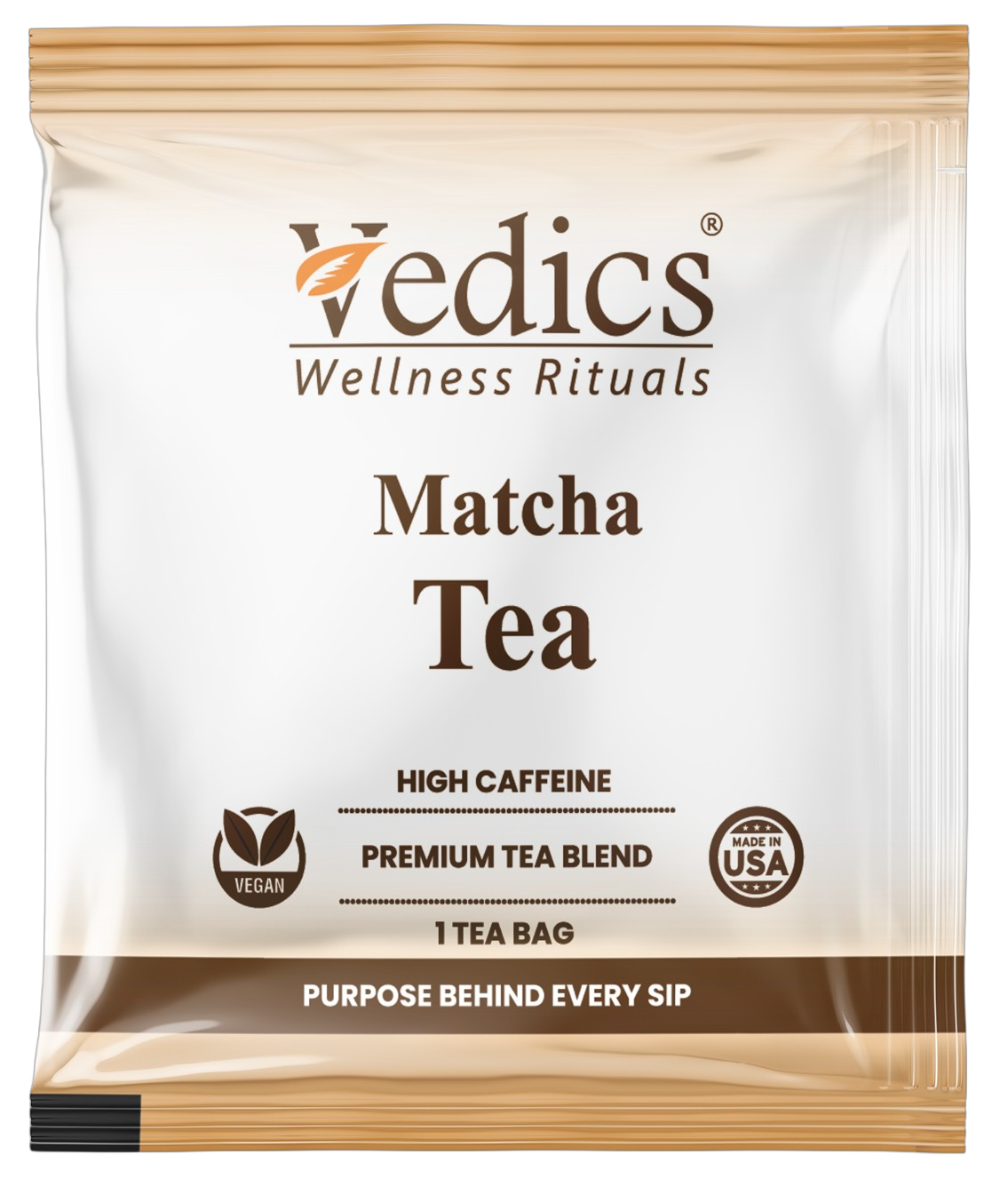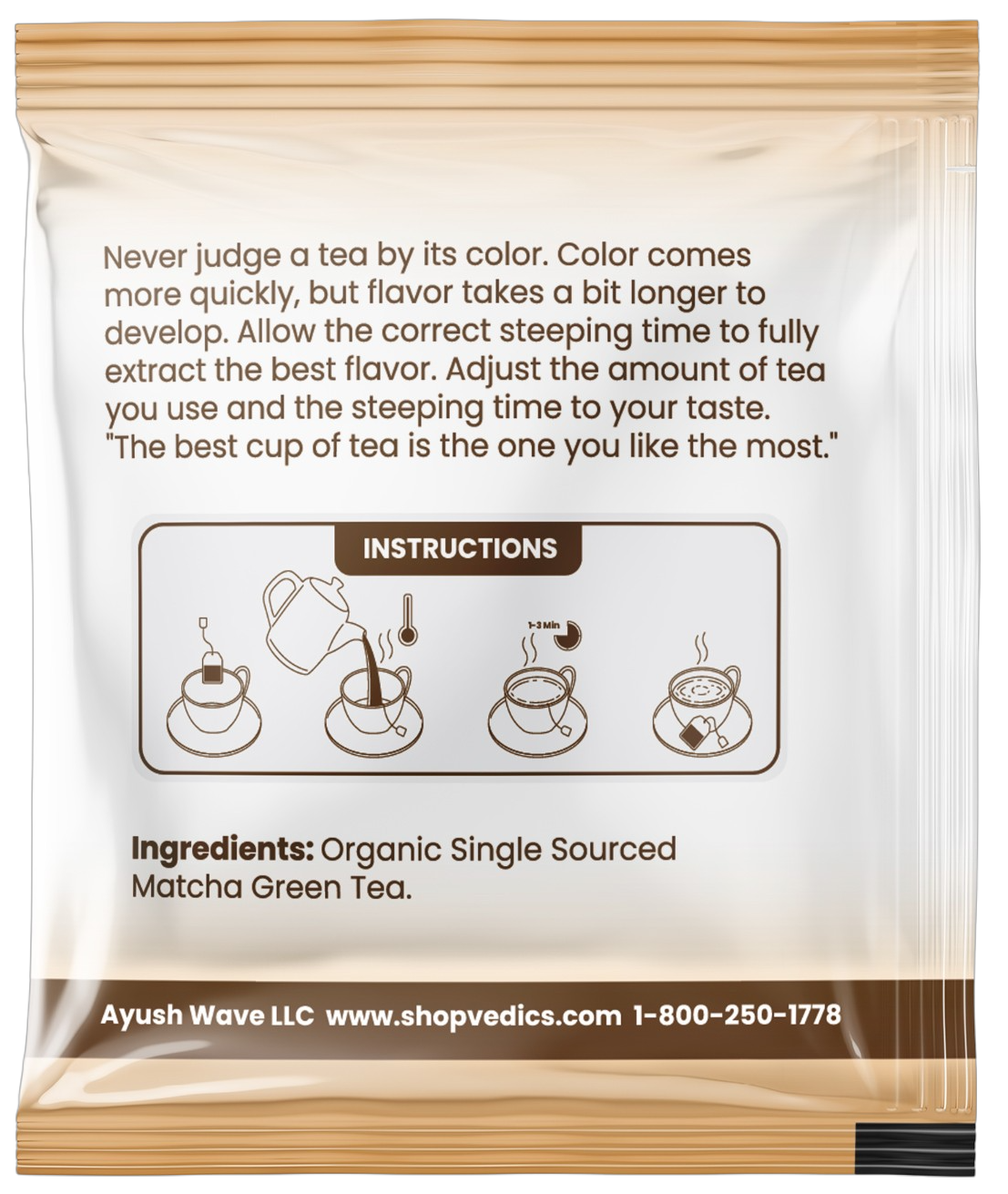 Matcha Tea
Pickup currently unavailable at Vedics
Vedics
Pickup currently unavailable
800 Bonaventure Way
139
Sugar Land TX 77479
United States
+18002501778
Description
DELICIOUSLY PURPOSEFUL EXPERIENCE - Find your new favorite with Vedics deliciously purposeful teas. Vedics tea pack includes pre-packaged tea sachets with the most popular wellness blends, Matcha Green Tea.
INDIVIDUALLY WRAPPED - Each tea bag is individually wrapped in our signature eco-friendly sachet and ready to be steeped into a perfect cup of tea. Wrapping each sachet allows us to ensure each bag is fresh, full of flavor, and ready to be enjoyed, a perfect purposeful contribution to your wellness routine.
TEA BAGS: Each tea bag is made with biodegradable, unbleached, non-GMO corn fiber. Not a Plastic. Each tea bag contains 3 grams of tea. Most tea bags usually have 2 grams. Each bag is packed with 1 gram more to provide perfect tea flavor with its purpose.
CREATE A PERFECT BREW - Each tea sampler pack includes 15 individual tea sachets, enough for 15 strong cups of delicious tea! Each sachet is blended for one 8 oz cup of tea. Each tea blend is different; for black and herbal tea blends, brew water to 206 degrees Fahrenheit and steep for 3-5 minutes, or up to 7 minutes for herbal blends. For green and white tea blends, heat water to 185 degrees Fahrenheit and steep for 3-5 minutes.
CAFFEINENE CONTENTS - Each of the teas has a different caffeine content: black teas have the most, green teas have a moderate amount, white teas have a small amount, and herbal teas are naturally caffeine-free!
OUR STORY - Our mission is to create a deliciously purposeful tea. There is a reason behind every sip. As an independent family-owned tea company we pride ourselves on hand blending the finest organic botanicals to create award-winning custom-crafted tea blends. Our teas are single sourced from better traded and sustainably sourced organic growers. Every Sip you drink has the power to transform the community by providing underprivileged seniors access to health, food, shelter, and clean water.
Ingredients
Matcha Green Tea
Benefits
Matcha infusions of matcha green tea has been used for centuries in Asian Subcontinent and known for its benefits.
All ingredients are single sourced, sustainably, and better traded herbs from Japan. Matcha Tea is carefully formulated, tested, and proudly made in USA.
Directions
Place 1 tea bag in a Teacup, pour hot water (100ºC), and steep for 5-7 min, drink warm, and discard the tea bag.
Specifications
| | |
| --- | --- |
| Brand | Vedics |
| Item Form | Square Single Chamber Tea Bag |
| Flavor | Sweet nuttiness |
| Aromatic Description | Fresh Feminine and Sweet Aroma |
| No of Sachets | 15 Deliciously Purposeful Tea bags |
| Net wt. per Sachet | 3 Gms |
| Caffeine Level | High Caffeine |
| Ingredients | Matcha Green Tea |
| Origin | Japan |
| Made in | USA |
| Brewing Instructions | Place 1 tea bag in a Teacup, pour hot water (100ºC), and steep for 5-7 min, drink warm, and discard the tea bag. |
| Uses: | Antioxidant, protects liver, Boost brain functioning and improves heart health. |
| Instructions: | Suggested to drink 1 hr before food for better results. |
Cautions
Contains multiple ayurvedic herbs. Do not use the product if you are allergic to any of the product ingredients. If you are pregnant or nursing or suffering from any of the medical conditions, please consult your practitioner before taking this product.
Disclaimer
These statements have not been evaluated by FDA. This product is not intended to diagnose, treat, cure, or prevent any disease